Great Walks and Day Hikes in New Zealand
For over 20 years now, we've taken thousands of keen explorers walking and hiking on New Zealand's most beautiful trails, and we know our pristine countryside better than any offshore organisation ever could. We love to show off our lesser-known hidden gems; classic New Zealand trails that some Kiwi's don't even know about! So if you want to get 'off the beaten track' and avoid the crowds as you explore New Zealand's pure wilderness, then read on to learn about New Zealand's best hiking trails.
Why is New Zealand such a popular hiking destination?
New Zealand's popularity as a destination for keen walkers and hikers has exploded in the last few years. There are over 500 hiking trails here in New Zealand, so no matter what kind of challenge you're looking for in your walking or hiking adventure, there's a trail here to suit your needs!
There is such a wide variety of landscapes to discover. New Zealand's South Island is home to the Southern Alps – a spine of giant granite peaks that runs from north to south along the centre of the island. Whilst up on the North Island, you can immerse yourself in fascinating geothermal landscapes – either choose to take a guided tour, or explore them under your own steam! Across both islands we have a network of 9 'Great Walks' (soon to be 10) which connect our most dramatic mountain ranges, glaciers, valleys, lakes, fjords, rainforests, and (according to Rudyard Kipling) the 8th wonder of the world – Milford Sound.
So if the Great Walks are your reason for visiting New Zealand, you've come to the right place. Read on to learn more about the Great Walks, plus the Hollyford Track – and we've selected the best sections of each Great Walk to take a day hike on. Go ahead, grab your free New Zealand Hiking brochure today, or read on to learn about New Zealand's Great Walks, and our best day hikes.
New Zealand is the safest hiking destination in the world
In the 2017 Global Peace Index, New Zealand was voted the second safest country in the world to visit (second only to Iceland). But the social and political safety is where it all starts – the real peace and security is realised when you're exploring New Zealand's pure wilderness.
It's something that us Kiwi's have grown up with and we often take for granted – the fact that there are NO harmful animals or insects in our forests, rivers mountains and lakes. Our forests are filled with an orchestra of birdsong, the mountains echo with the cheeky laughter of the Kea (the world's only mountain parrot, endemic to New Zealand), and our crystal clear waterways are full of trout and salmon. If you find yourself short of water on a hike, you can assume it's safe to drink from these waterways, New Zealand is home to some of the cleanest waterways in the world.
So wherever you are on a New Zealand hiking trail, you'll be able to enjoy the freedom of stopping for lunch or capturing a photo opportunity, in complete safety. Take a rest and lay down under a tree, and you won't be bothered by any creepy crawlies. There are no bears, big cats, snakes or deadly spiders. The only thing that you need to be aware of is our small sandfly – but these little midges are easily deterred by wearing a natural tea tree fragrance, or covering up in light hiking clothing. They won't hurt you, only give you small (and easily avoided) bites similar to a mosquito.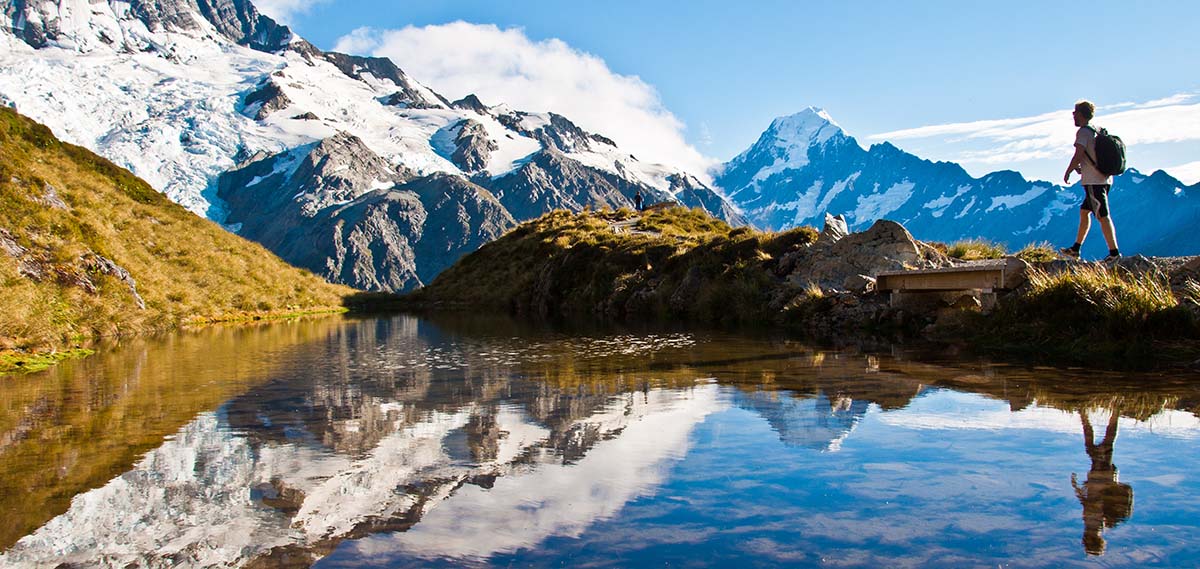 What are the best hiking trails in New Zealand?
The most popular hiking trails in New Zealand are the 10 Great Walks. The Great Walks of New Zealand include the:
Heaphy Track
Rakiura Track
Whanganui Journey (actually a kayaking journey)
Tongariro Northern Circuit
Lake Waikaremoana Track
Paparoa Track and Pike29 Memorial Track (opening in 2019)
Single day hiking options on New Zealand's Great Walks
Each of the 10 Great Walks can be hiked (or kayaked) in their entirety, but if your time in New Zealand is limited and you'd like to experience a wider variety of landscapes, flora and fauna then it's a great idea to consider single day hikes on each of the Great Walks. Each day hike will immerse you in that region's landscape, you'll get that 'bucket list' Instagram photo for your family back home, and you'll get the bragging rights of hiking on one of the world's best hiking trails… and you'll be able to do it again on a different trail the very next day!
Below we've chosen to showcase to you a handful of the 9 Great Walks. We've also included the Hollyford Track, which we believe is one of the most dramatically beautiful hiking trails in the world. Click the 'Read More' button below each trail to find out where the Great Walk is located (complete with an interactive map), start and finish points, day walk options and even guided hiking tours that include that particular hike.
People often ask "what's the difference between walking and hiking?"
The difference between walking and hiking is nothing more than a perception of difficulty. Here in New Zealand, we believe that hiking is a sport that requires serious back country equipment, and hikes take one very long day, or multiple days to complete. Many hikers will prepare themselves to take multiple days to complete a trail in its entirety, and they'll carry large backpacks to house the required equipment.
Whereas 'walkers' tend to only carry a small amount of food and water to last them 2-4 hours on the trail. Taking a walk will steer you away from the technical trails, or great undulations in elevation. Walkers tend to have a slower pace than hikers, and more emphasis is put on creating a richer experience in one small section of a beautiful trail, opposed to hikers putting their head down and focusing on getting from A to B. Walkers lift their heads, take their time, absorb their surroundings. But again, the difference between walking and hiking is only a perception – and here at New Zealand Walking Tours, this is our understanding of the terminology.
More information about New Zealand
These pages are a great place to find more information about New Zealand. Whether you're a keen hiker, a foodie, a wine-lover, a photographer, or all of the above, these pages are full of useful information.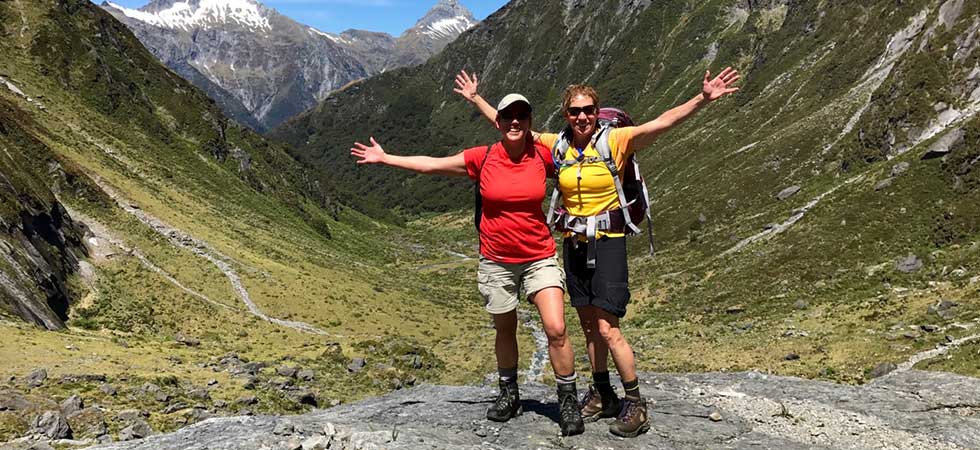 Best time to visit
The best time to visit New Zealand will often depend on what your priorities are from a visit. Here we're talking about the seasons and what you can expect.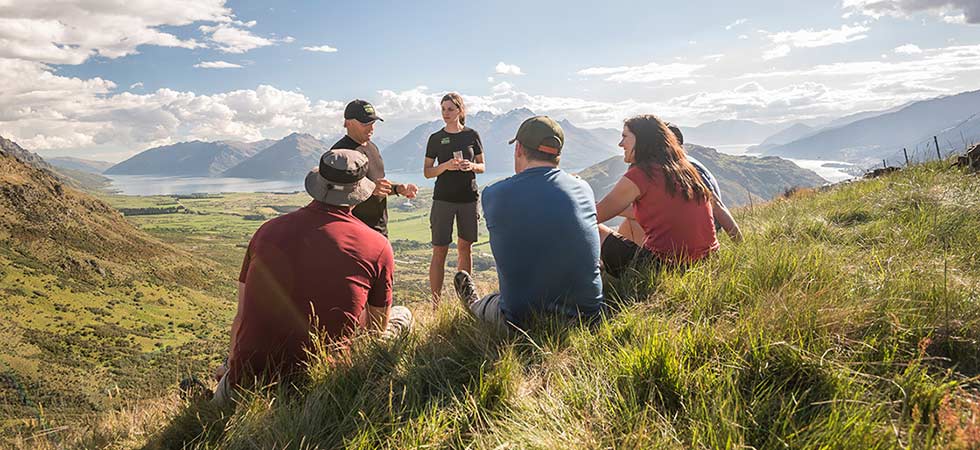 About New Zealand
If you're not sure where to start in planning your trip to New Zealand, head to this page – it's the best place to find all sorts of information about New Zealand.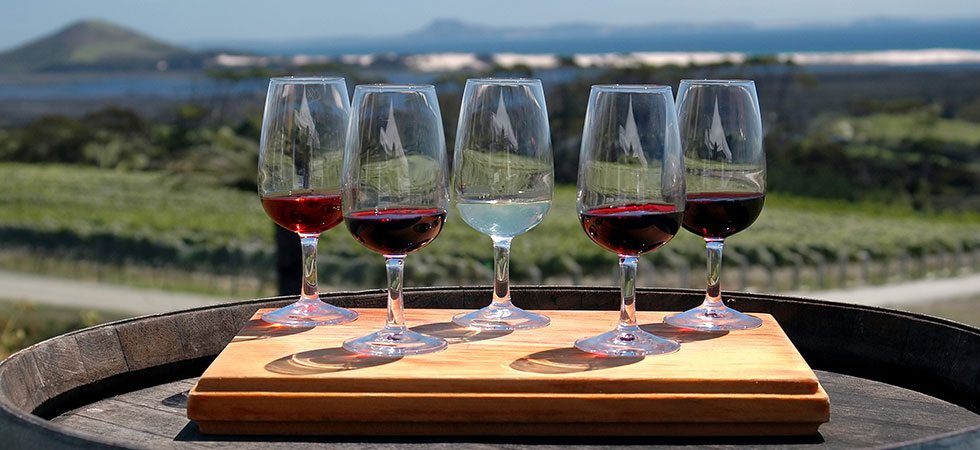 Wine Regions
New Zealand's reputation as a producer of some of the world's best wine is always growing. Here we'll tell you about the regions you can visit on trips with us.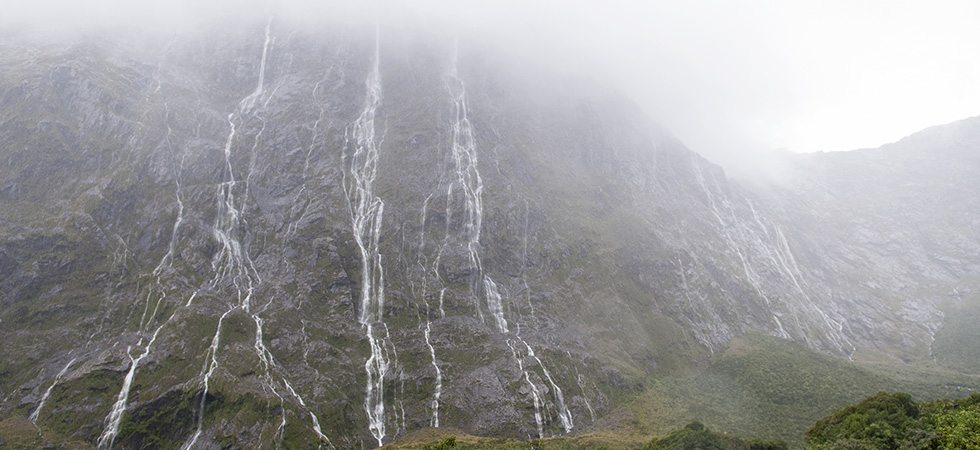 Milford Sound
Milford Sound is one of the most famous destinations in New Zealand. Here we're talking about the gem of the Fiordland National Park, and why it's so special.
Why travel with us?
We're a modest lot us Kiwi's, but we really are the only New Zealand-based company to offer this level of service and expertise. With over 21 years of experience running life changing trips – we've perfected the art of small group travel, and we've introduced a slice of world-class elegance that'll surpass every one of your greatest expectations.
Unbeatable local knowledge
Our team have spent their lives immersed in the places we go. Our trip itineraries are created based on our favourite childhood holiday spots, secret hideaways we've kept under our hats, the places where we proposed to our spouses, and areas we'll keep going back to in our free time, for the rest of our lives. It's made our New Zealand journeys authentic, timeless and beautifully crafted.
First-class New Zealand Guides
A good guide points out features, provides information and context, and connects the dots on a trip. A first class guide is a host who pours their heart and soul into the trip, takes it personally, and will move heaven and earth make it all come together seamlessly. That doesn't happen easily – we dedicate ourselves to selecting, training and supporting the absolute best travel leaders in New Zealand.
Superb Food & Wine
New Zealand is firmly on the map when it comes to fine wine and unique, refreshing dining experiences. We showcase the culinary uniqueness and local wines of the regions we visit. To us, they're an equally important part of the New Zealand experience, complementing our beautiful landscapes perfectly!
Unique experiences in stunning locations
It's as much about the 'where' as it is the 'what' when it comes to a beautiful New Zealand experience. We not only walk through stunning landscapes to unforgettable places, but we make sure the journey is dotted with captivating stories, great food & wine and a few surprises that will have you brimming with stories of your own when you return back home.
Adventure at a leisurely pace
What's the rush? We'll slip on our best pair of walking shoes and journey into the most beautiful places in New Zealand. And to soak it all in properly, it makes sense to take our time and not necessarily set ourselves challenges that are a race against daylight hours. That means having the choice to walk, explore and escape at a pace that suits you. Slow down, soak it in, breath in the fresh air, properly feel the ground beneath your feet.
20+ years experience
Good things take time, including learning to run first class New Zealand journeys. Time to learn and understand how to be amazing hosts, seek out those hidden places that aren't so easily seen on a map, and bring together every ingredient to create the perfect trip. It's a journey we've taken for the last 20 years, and a path we'll stay on in pursuit of providing immaculate trips that you'll never forget.